EPC explained
Energy Performance Certificate - EPC
The European Union has long been concerned about the energy efficiency of the buildings situated in its member states. In addition it is concerned about co2 emissions from buildings and it's affect on climate change.

In January 2003 the EU Energy Performance of Buildings Directive (EPBD) was made public creating a massive impact on awareness of residential properties and the operation of commercial buildings as well as the development of new buildings. The EPC is the way in which the EU directive will be adhered to in the UK.
The EPC can only be compiled by Domestic Energy Assessors (DEA) or Home Inspectors (HI) who are members of a Government approved and regulated certification scheme.
DEAs are the work force that fulfils the need in England and Wales to adhere to the Energy Performance in Buildings Directive issued by the European Parliament. The qualification requirement they must hold is either the Diploma in Domestic Energy Assessment (DEA) and/or the Diploma in Home Inspection (HI)

Other provisions that must be adhered to:-
The individual diploma holding DEA/HI is a fit & proper person to be interacting with the public on a professional level.
To ensure that the diploma holding DEA/HI has maintained suitable levels of professional indemnity insurance.
To ensure that a commitment is received from the diploma holder that they will update key skills and knowledge regularly as required – continued professional development ( CPD)
Our Assessors are members of the SAVA certification scheme who constantly monitors their members to ensure their work is meeting their rigorous quality control standards.
Whilst making his assessment of the property, our Energy Assessor will collect specific data based on the Government's Reduced Standard Assessment Procedure (RdSAP) covering the following;
Establishing the age and construction method of the property.
Measuring floor and wall areas of the property.
Looking at heating systems including the boiler, heat emitters and controls.
Identifying existing cavity wall and loft insulation.
Identifying any alternative heating (e.g. solar) and energy-efficient products (e.g. energy saving light bulbs).
The recorded data is then used to produce the EPC. It is not a pass or fail, it is an assessment of the property's efficiency in dealing with energy showing this on a scale of A-G. The most efficient have the lowest fuel bills and are in band A.
The EPC also shows the impact the property has on the environment, this too is on a scale of A-G, with the better-rated properties having less impact through carbon dioxide (CO2) emissions.
The EPC also provides recommendations and information on ways to improve the property's efficiencies i.e. how to cut carbon emissions and fuel bills helping the environment and saving you money.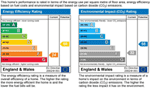 Click here to see an example of an EPC.


When is an EPC needed?
From 1st October 2008 where a dwelling is being let an Energy Performance Certificate (EPC) will be required. An EPC is required as follows:-

Individual house/dwelling (ie. a self contained property with its own kitchen/bathroom facilities) – one EPC for the dwelling.
Self contained flats (i.e. each behind its own front door with is own kitchen/bathroom facilities) – one EPC per flat.
Bedsits (where there is a shared kitchen and/or bathroom) – no EPC is required.
Shared flats/houses (eg. a letting of a whole flat or house to students/young professionals etc) - one EPC for the whole house.
Mixed self contained and non self contained accommodation – one EPC for each self contained flat/unit but no EPC for the remainder of the property.
A room in a hall of residence or hostel - no EPC is required.
Individual room in a flat or house (e.g. where a tenant rents a room so he/she has exclusive use of his/her bedroom and shared use of the kitchen toilet and bathroom) – no EPC is required.
How long is an EPC certificate valid for?
Provided the building is not subsequently modified, an EPC certificate is valid for 10 years from the date of issue and will be kept on a central register for 20 years.
What are the identifiable areas for improvements?
The key areas to look at are:
heating and boiler system
cavity wall and loft insulation
double glazing
energy efficiency lights
Implications for Landlords
As a Landlord, EPCs are an important part of your business, from 1st October 2008 EPCs ALL properties being let to new tenants will require an Energy Performance Certificate (EPC). From this date an EPC and the recommendation report must be made available free of charge by the Landlord to a prospective buyer or tenant every time a residential property is viewed and re-let.
The higher the rating, the more energy efficient and the more attractive the property will become to potential new tenants. Government grants are available nationally, to help Landlords improve the energy efficiency of their properties, details of which can be obtained from your local council.
This requirement has been brought about by the Energy Performance of Buildings Directive and Regulations apply to both commercial and residential properties that are to be rented or sold on the open market. These regulations are to be enforced by Trading Standards. Landlords marketing their properties for sale or rent from this date without an EPC certificate run the risk of being served with a fixed penalty of £200 per property.
Landlords with a large portfolio of properties, please note, we are happy to offer discounts for bulk appointments.
Please contact us to discuss how we can meet your EPC needs